ACE Adventure Center & More
September 17 & 19, 2006
---
PHOTOS:
Feel free to use the photos below for any noncommercial use (i.e. anything that doesn't make you money), but please be courteous and include a photo credit (Copyright 2006 Brian Reichow, brian@casabrian.com) and link to this site (http://www.casabrian.com). If you don't, I will hunt you down and kill you like the dog you are.
ACE Adventure Center
ACE (http://www.aceraft.com) is the largest outfitter running trips on the New and Gauley Rivers. While I usually associate "big" with "not as good", the opposite is true of ACE. There is simply so much to do around their 1400-acre resort/base camp, and the raft guides are fantastic. I had such a good time at ACE in just one day in August that I came back for five more in September. ACE is pretty much the only outfitter that runs Gauley trips all summer. Due to the unpredictable (usually quite low) summer river flow, it's quite likely that you'll be running the Gauley in duckies (one-person inflatable kayaks), but be assured that you if book a Gauley trip with ACE, you'll get a Gauley trip with ACE. Most of the other outfitters will arbitrarily shift you to a trip on the New River instead.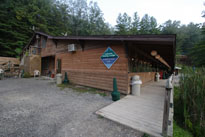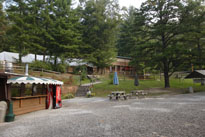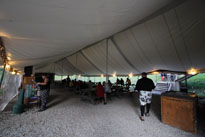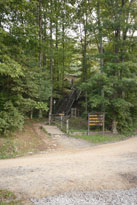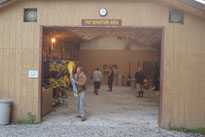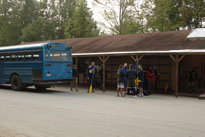 Your day usually starts at ACE's breakfast buffet, inside the Lakeside Dining Lodge (photo 1). Post-meal, you wander up the stairs (photo 2) to the Big Top, where you check in for your raft trip (photo 3). You pay for your rental equipment at the Outfitter Store (at right in photo 2), then head up the steep stairs (photo 4) to the trip departure area (photos 5-6), where you get your personal flotation device, paddle, helmet, and any rental equipment (wetsuits and so on). ACE keeps an eye on your car/cabin keys while you're on the river. You'll return to this very spot at the end of the day, and after a one-hour break to get cleaned up, everyone returns to the Big Top to watch the video your group's video boater shot of the rafting trip. It's a riot. Then, everyone heads over to Lost Paddle, ACE's bar & grill. Good times!
---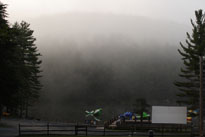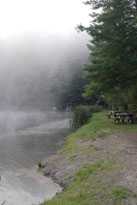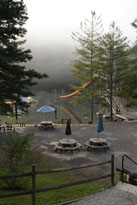 In the morning, it's not uncommon for fog to obscure everything near the lake. It eerily rises off the surface of the lake until mid-morning.
---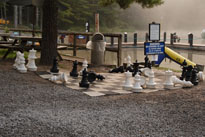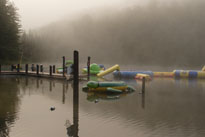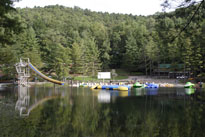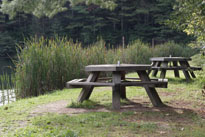 ACE's gigantic chess board (photo 1) and some of the lakeside entertainment - the floating water trampolines (photos 2-3) and picnic tables (photo 4).
---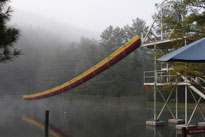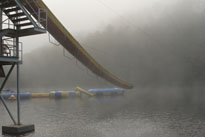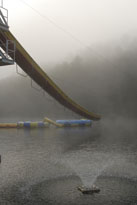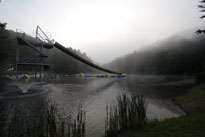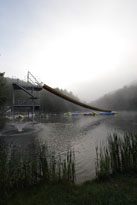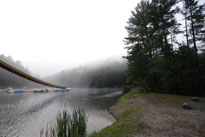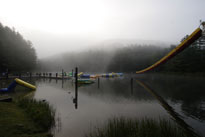 For the bigger kids - or the young at heart - ACE has a gigantic "Wet Willie" water slide.
---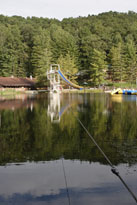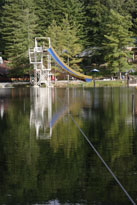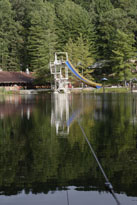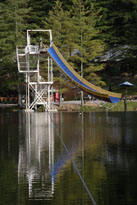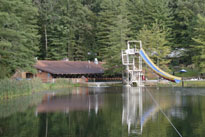 For the thrillseekers, there is a zipline from the slide tower to the other side of the lake.
---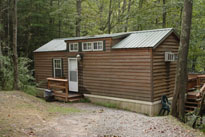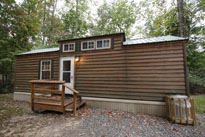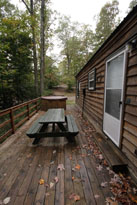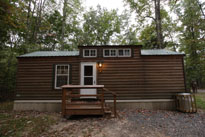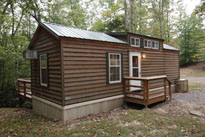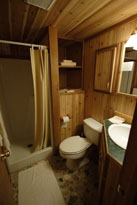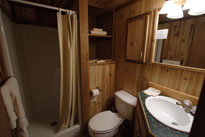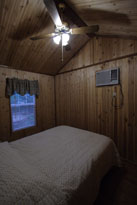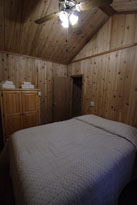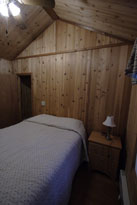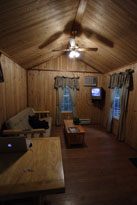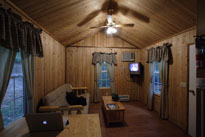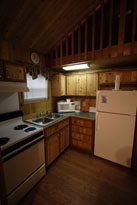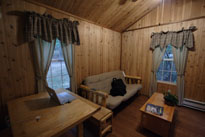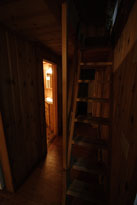 ACE's accommodations run the gamut from rustic tent camping sites to deluxe cabins, like this Cozy Cabin I stayed in. The cabins can sleep four easily and have a full kitchen and bathroom. Note the private hot tub behind the cabin! There are 2-bedroom chalets, lakeside A-frames, and even large-group or scout-troop bunk facilities if necessary.
---
Minden, WV
ACE's neighbor, the town of Minden is an extremely depressed area of West Virginia. It's also apparently a strong candidate to be a Superfund site due to PCB contamination. Prior to ACE, the main drag through Minden was a one-lane dirt road. Now, tens of thousands of visitors to ACE traverse the narrow (now-paved) street - Minden Road.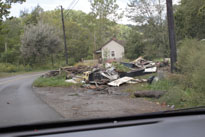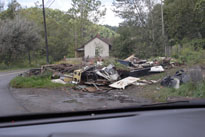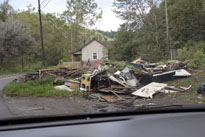 I'm not sure what happened to this house in Minden. It almost looks like it exploded.
---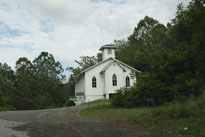 Nope, it's not a church - it's the Minden Community Center. All I ever saw coming out of its parking lot were ATVs, though.
---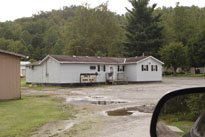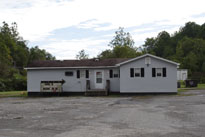 In West Virginia, even the bars are double-wides.
---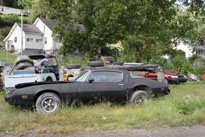 There are many, many seemingly discarded automobiles (or merely pieces of them) throughout Minden. Several homes featured bench seats as front porch furniture. Closer to Oak Hill, a matched pair of side-by-side, beat-up red Pontiac Fieros - one parked facing in, one facing out - were slowly being swallowed by the adjacent shrubbery.
---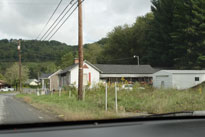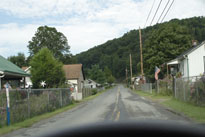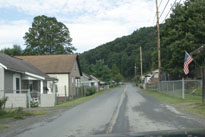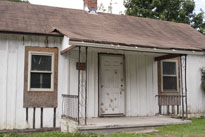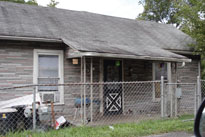 While these houses are in fair condition, there are more than a few with broken windows, holes in the roof, or rotting siding in this hardscrabble former coal town.
---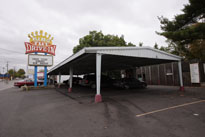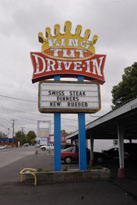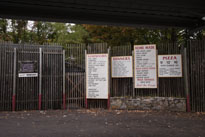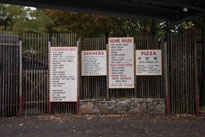 King Tut's Drive-In (Beckley, WV)
---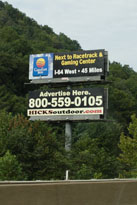 Only in West Virginia could the billboard company be named "Hicks Outdoor."
---
Interstate Mountain Pass (I-64/77 westbound to Charleston)