New River Gorge & Bridge
near Fayetteville, WV
September 16, 2006
---
PHOTOS:
Feel free to use the photos below for any noncommercial use (i.e. anything that doesn't make you money), but please be courteous and include a photo credit (Copyright 2006 Brian Reichow, brian@casabrian.com) and link to this site (http://www.casabrian.com). If you don't, I will hunt you down and kill you like the dog you are.
New River Gorge Bridge
All of these were shot from Fayette Station Road, the winding (and mostly one-way) sightseeing route that starts next to the New River Gorge Canyon Rim Visitor Center. The Visitor Center is a worthwhile stop if you're in the area.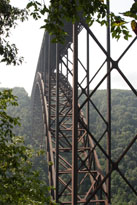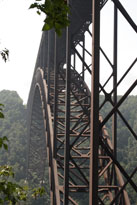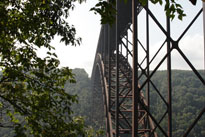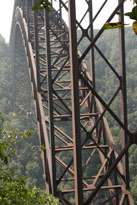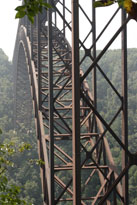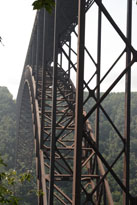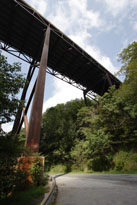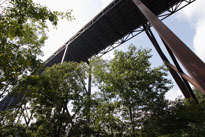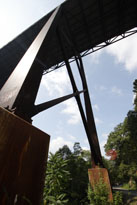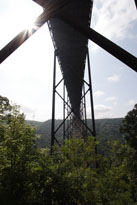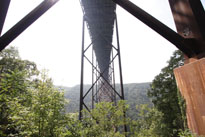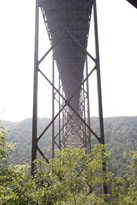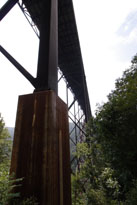 ---
Fayette Station Road
This picturesque road is very narrow (calling it one-lane is generous). I had to get quite near the precipitous drop-off several times to allow opposing traffic to get by. Furthermore, the locals drive this like maniacs compared to my slow and steady pace. The road runs a winding course all the way down (a nearly 1,000-foot vertical descent) to the Fayette Station Bridge, crossing the railroad tracks shown farther down this page.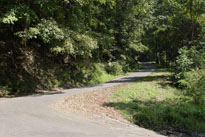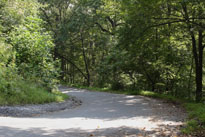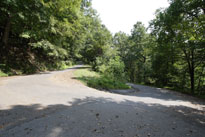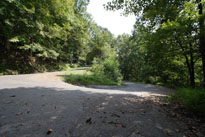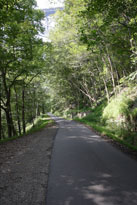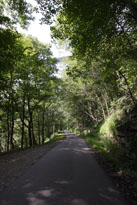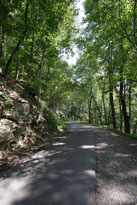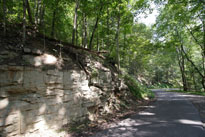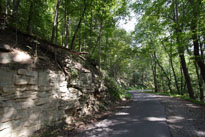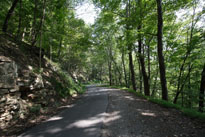 ---
Railroad Tracks
These tracks begged to be photographed. However, no sooner had I stepped on to the tracks to take some artsy photos when the crossing arms began clanging their warnings and a big CSX locomotive rounded the bend.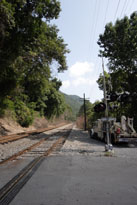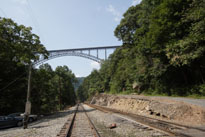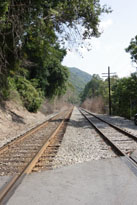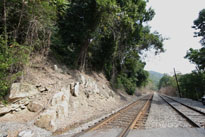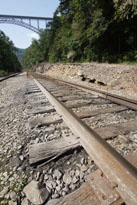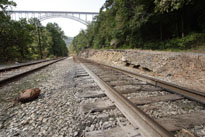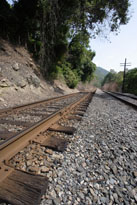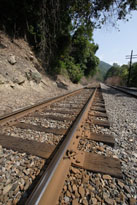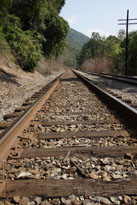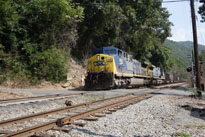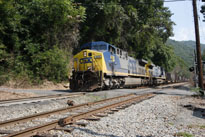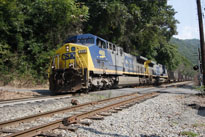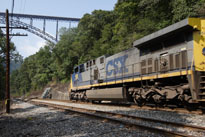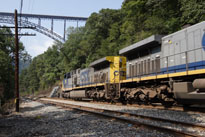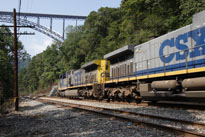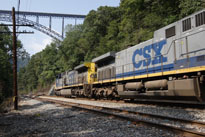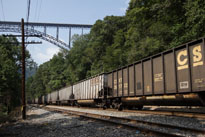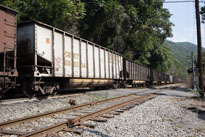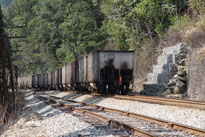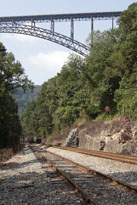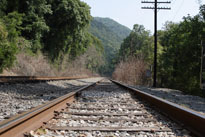 ---
New River Gorge & Bridge
Prior to 1977, getting from Fayetteville to points north required a 45-minute detour or winding down narrow mountain roads like Fayette Station Road. It now takes 30 seconds. The bridge is now the 2nd-longest single arch steel span in the world (3,030 feet with a 1,700-foot arch), and the 2nd-highest bridge in the U.S. (876 feet above the New River). On the third Saturday in October, the locals close the bridge for "Bridge Day", an all-day party that draws a quarter of a million people. Besides the food, fairs and crafts, on this one day BASE jumpers leap from the span. I'm told that in '05 there even was a zipline running from the bridge deck to roughly the area from which I shot the photos of the bridge that are at the top of this page. Insane.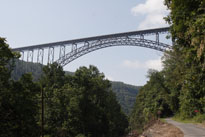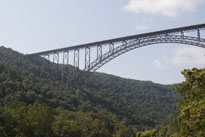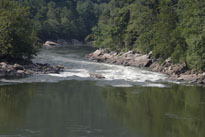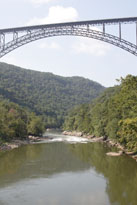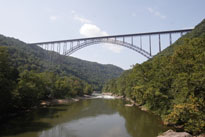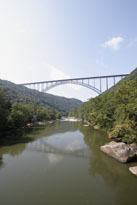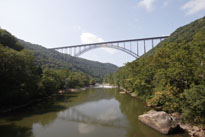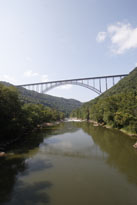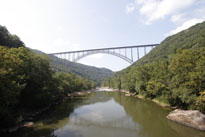 The view of the New River Gorge and Bridge, looking north. (Yes, the New River runs north).
---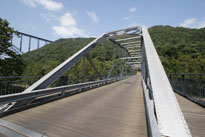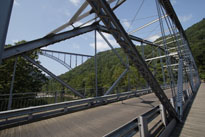 This is the rebuilt Fayette Station Bridge, the original means of crossing the New River throughout the late 1800s and first half of the 20th century.
---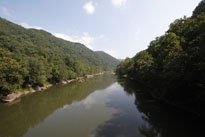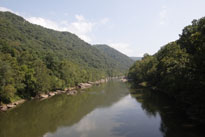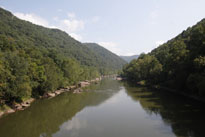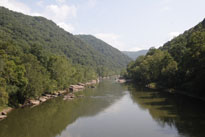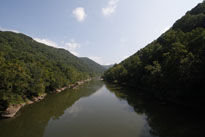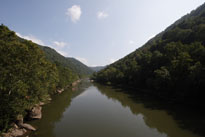 The view of the New River Gorge, looking south.
---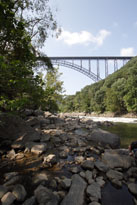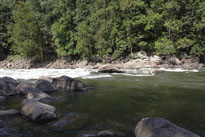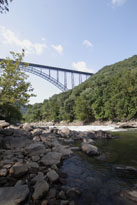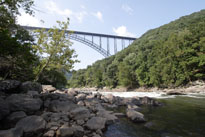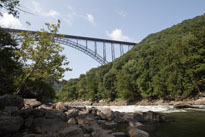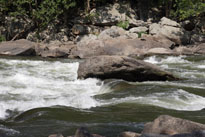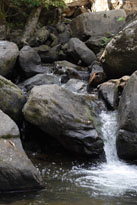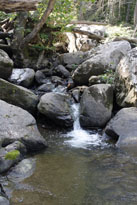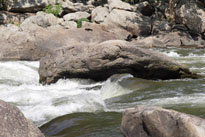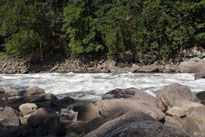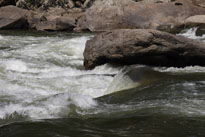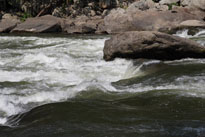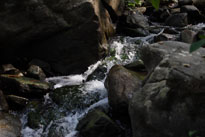 After crossing the Fayette Station Bridge and heading back north, one reaches a river access point where you can scramble across rocks to get to the very edge of the New River. Several creeks seem to converge here, providing some spectacular views as they pour over the rocks and dump into the New.
---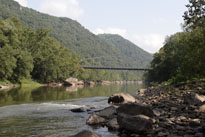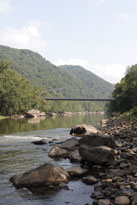 The view south back toward Fayette Station Bridge.