Gauley River Whitewater Rafting
Summersville, WV to Woods Ferry - September 18, 2006
---
PHOTOS:
Due to the obvious risk of camera damage, these photos were shot on my old 3-megapixel Canon PowerShot G1 housed in an Ewa-Marine waterproof case. Most photos were shot in shutter-priority mode at 1/500 sec. Photos are presented in order, as shot.

Feel free to use the photos below for any noncommercial use (i.e. anything that doesn't make you money), but please be courteous and include a photo credit (Copyright 2006 Brian Reichow, brian@casabrian.com) and link to this site (http://www.casabrian.com). If you don't, I will hunt you down and kill you like the dog you are.
Upper Gauley, Sept. 18
11:00AM: Summersville Dam Put-In & Preparations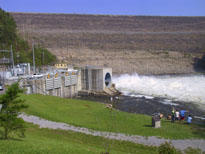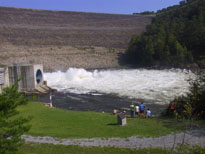 Summersville Dam - the second largest rock filled dam east of the Mississippi River - actually had its tubes open, an unusual sight since its 2003 conversion to hydroelectric power generation. Usually the water bubbles up from below. Not today - what a sight!
A true story about the naming of the dam: Normally, dams are named after the town that gets inundated by the lake formed behind the dam. In this case, that was the town of Gad. However, even in West Virginia, it's a little too hillbilly to call something the Gad Dam. The second choice is to name it after the river that is being harnessed, but -- once again -- even in West Virginia, Gauley Dam still crossed the line of good taste. So, it was the nearby town of Summersville that lent its name to the new dam.
---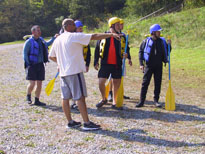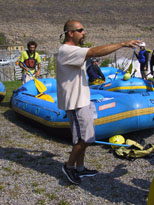 Trip leader T.J. Allen directs traffic at the mustering area above the put-in.
---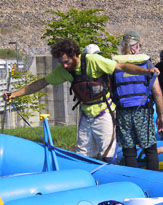 "Not-So-Pretty" Casey Clay (aka Cosmo) gets everything lashed to the raft.
---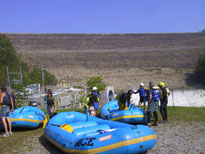 One by one, the guides are assigned rafters.
---
12:35PM: ???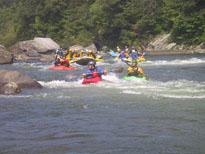 Kayakers are everywhere on the Upper Gauley, a strange breed that are quite obviously insane.
---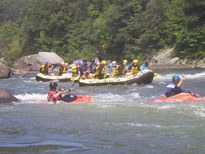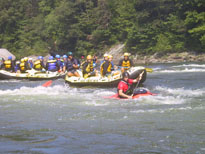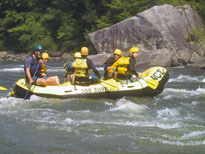 "Pretty" Casey Barrows avoids running down the playboaters.
---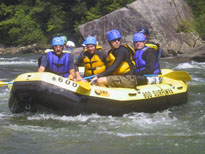 T.J.'s crew.
---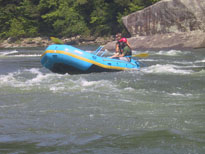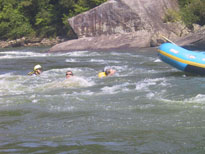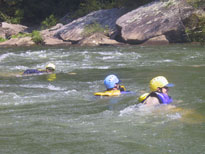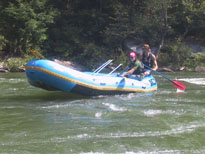 Photo 1: Where are John Paul Rankin's paddlers? Photos 2-3: They've all gone for a swim. Photo 4: John Paul waits for his charges to catch up to him.
---
12:46PM: ???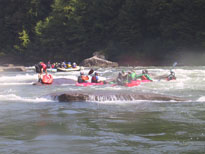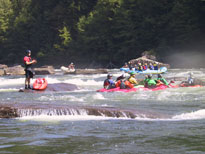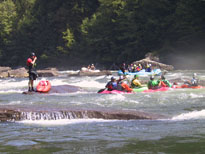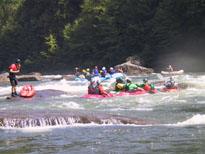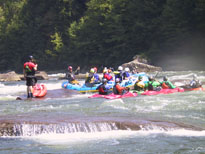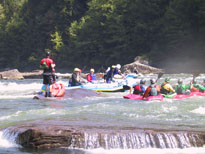 Bryan Moll attempts to ferry across and avoid the kayakers' playspot, instead getting stuck on a ledge.
---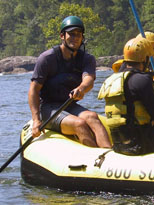 "Pretty" Casey Barrows.
---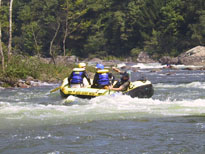 Nick Reasner and crew go surfing.
---
1:02PM: Meadow View???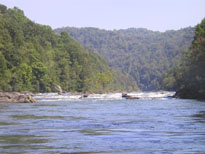 1:15PM: Tumble Home???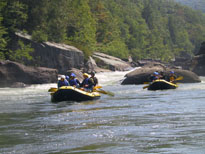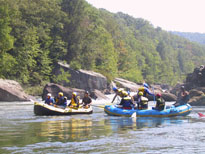 Nick Reasner's crew (at left in both photos).
---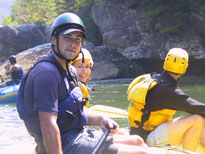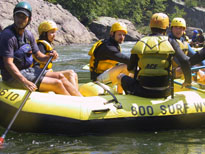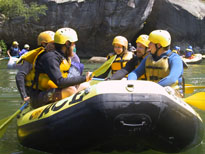 "Pretty" Casey Barrows and his team.
---
1:20PM: Conestoga???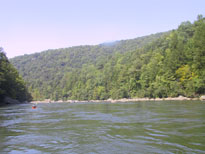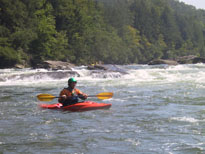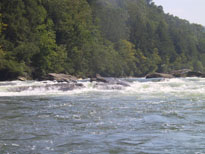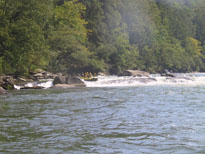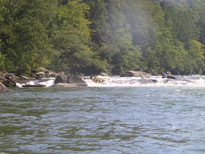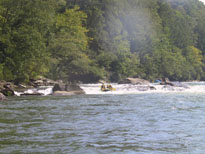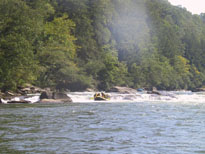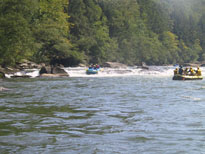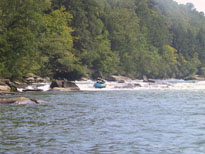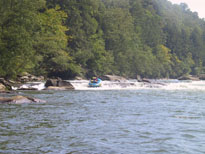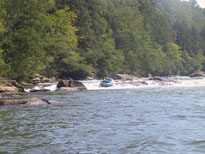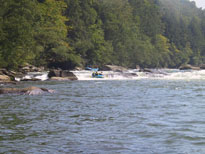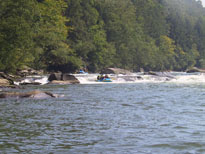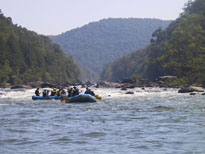 1:33PM: Shipwreck (B.F.R.)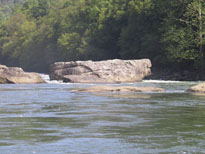 Looking back upstream at Shipwreck Rock.
---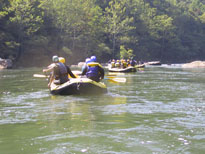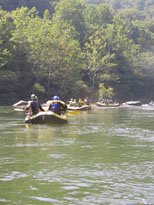 Rafts queue up for Iron Ring.
---
1:58-2:58PM: Sweet's Falls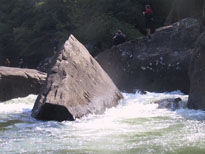 A great view of both the standard and Poop Chute exits from Box Canyon, which of course straddle the triangle-shaped rock. Postage Due is at far left.
---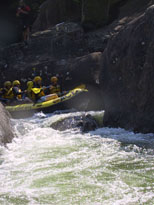 A Team Extreme raft runs Box Canyon.
---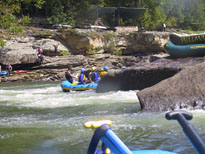 John Paul's raft eddies up next to Postage Due.
---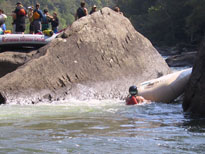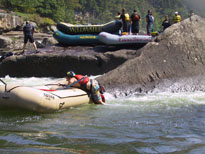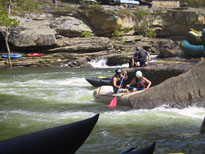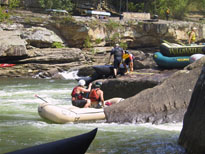 A private boater, after flipping in Box Canyon and flushing out of the Poop Chute, rights the raft and heads for the party on Postage Due.
---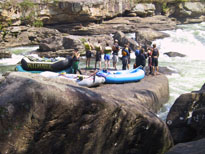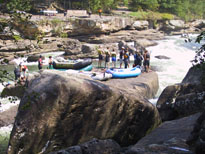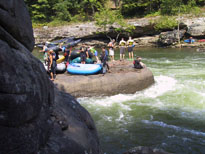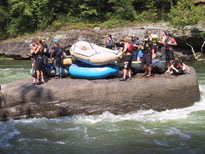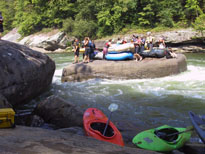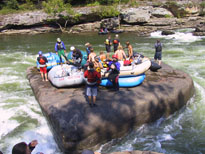 Ummmm...the party on Postage Due.
---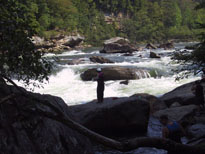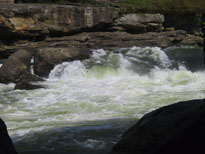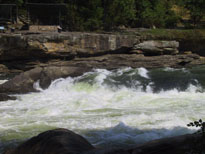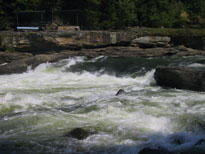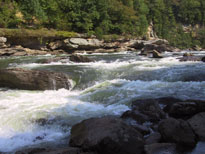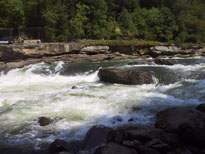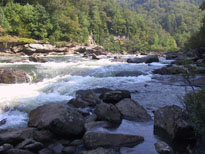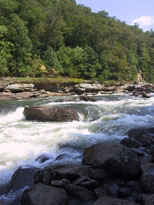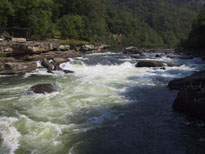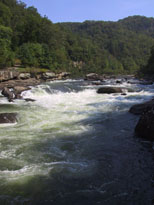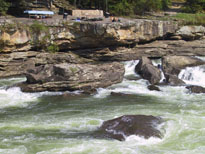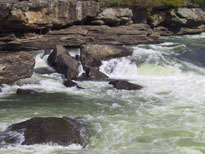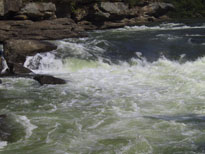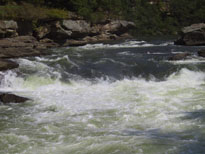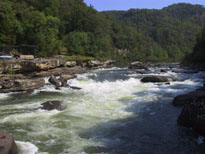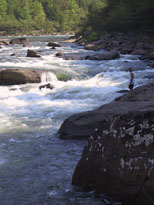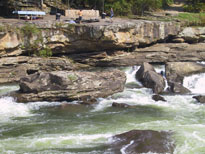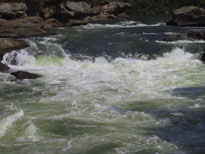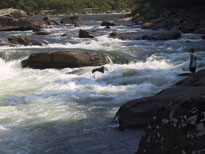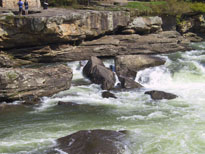 Several views of Sweet's Falls.
---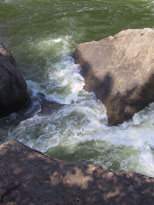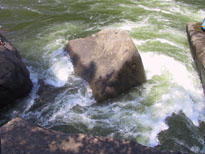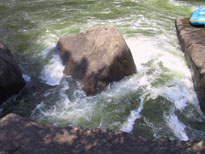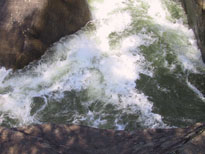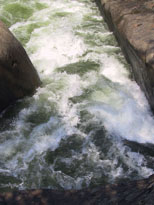 Box Canyon.
---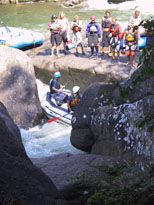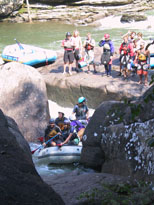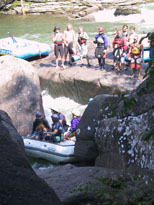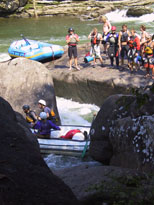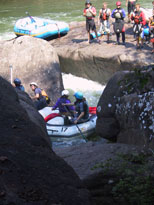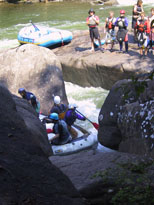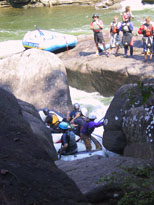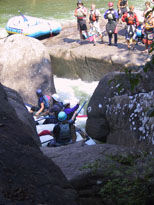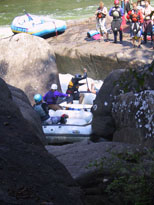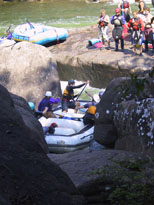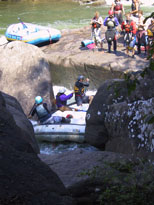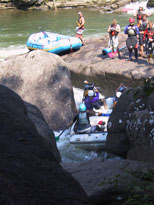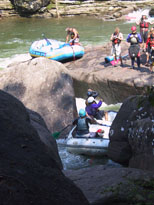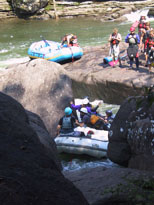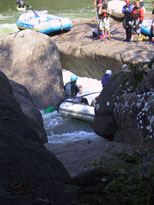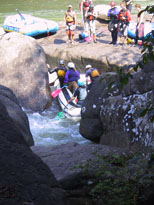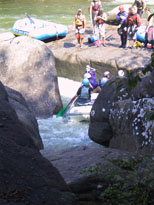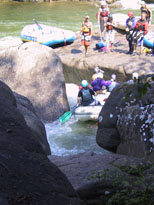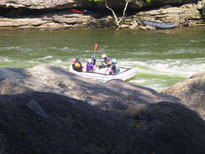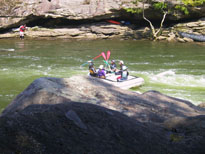 A successful escape from Box Canyon. The crowd on Postage Due is enticing them to paddle harder with the promise of beer as a reward.
---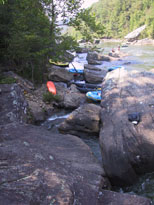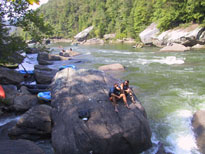 Boats along the Sweet's Falls banks and people watching the mayhem.
---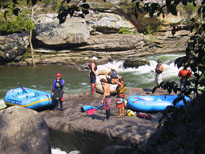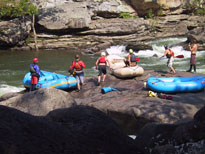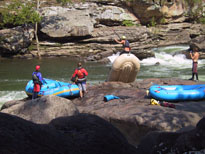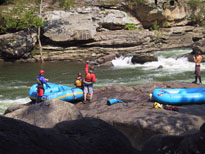 Private boaters launch their raft by anchoring one end with a paddler (Photo 1) while the other two leap into the raft from the sides (Photo 2), catapulting the anchor into the river (Photo 3). The crowd cheers! (Photo 4.)
---
3:43PM: Jump Rock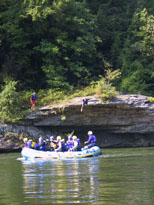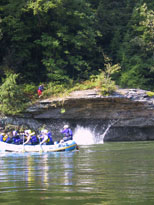 ---
4:11PM: Woods Ferry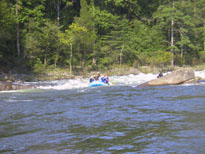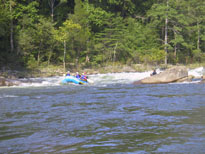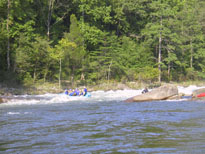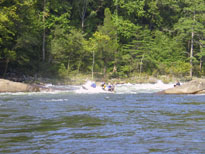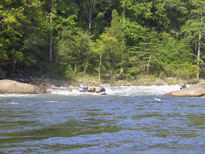 ---
4:17PM: Take-out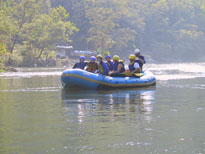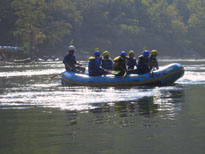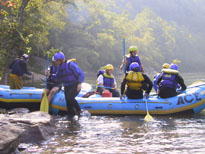 Note these rafters' effective use of camouflage.