Casa Brian | Homewood, Minneapolis ('08-present) | '03-'04 Apartment in Mpls | '98-'03 Brooklyn Park
Brooklyn Park: 5/27/98 - 1/3/03
(click on an image to see a larger version)
Ahhh, the first home. You buy it surrounded by the exuberance and naivete of youth, and regardless of how well researched or assisted the purchase may have been, you always find a tremendous number of things that are wrong with it, and dozens more things go wrong or break in short order.
My experience was no different.
This Dutch Tudor, located in east-central Brooklyn Park, was built in 1978 by Rottlund Homes. It was a large house (4BR/4BA, 2700 square feet) but had not been well cared for, and most of its flaws had been simply covered over rather than fixed. I spent nearly five years resolving these the right way.
Let's get you introduced to how it looked...
Exterior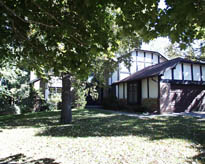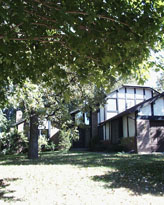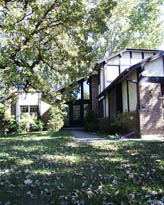 Oct. 2, 1999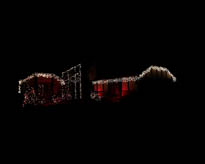 Front of house - Nov. 30, 1999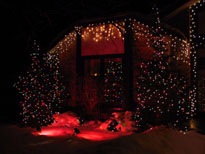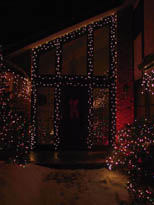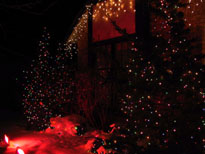 Jan. 4, 2001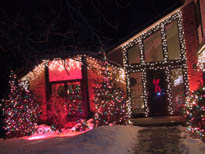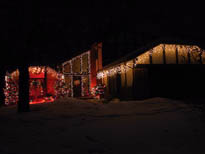 Jan. 8, 2001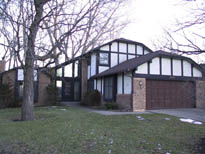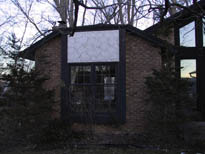 Front of house - Jan. 9, 2002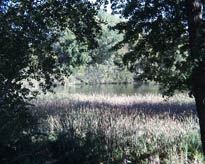 Pond - Oct. 2, 1999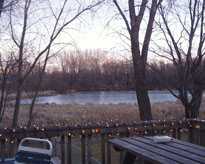 Deck/Pond - Dec. 12, 1999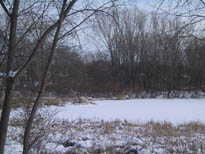 Pond - Jan. 3, 2001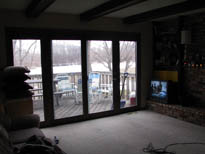 Pond View From Inside - Apr. 2, 2001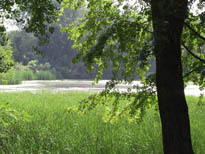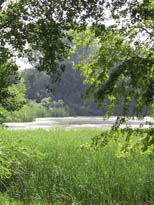 Pond - Aug. 22, 2001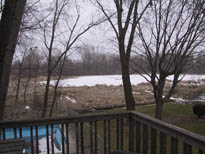 Deck/Pond - Feb. 9, 2002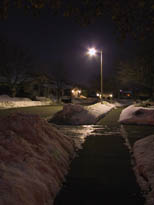 Street Scene - Jan. 8, 2001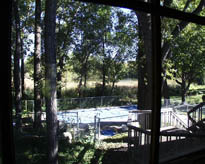 Backyard & Pool - Oct. 2, 1999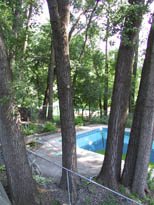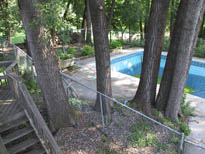 Pool empty due to liner damage - Aug. 22, 2001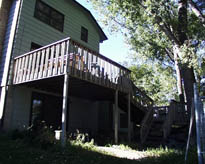 Backyard - Oct. 2, 1999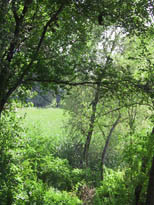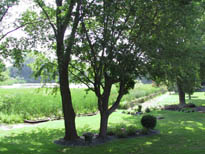 Pond's Edge - Aug. 22, 2001

View of pond from fire ring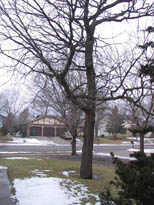 Front yard trees - Jan. 9 & Feb. 9, 2002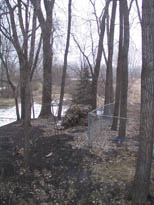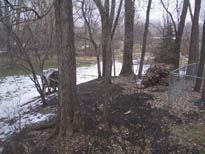 Back yard and wood pile - Feb. 9, 2002
High Water: June 15 & 25, 2001
A little unneeded excitement after two weeks of solid rain raises the pond level to within 25 feet of the house!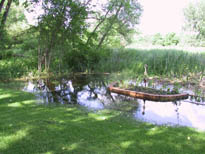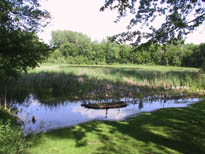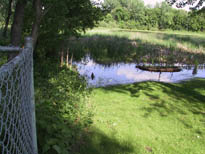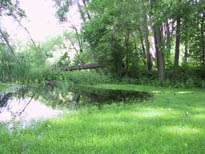 Fire Ring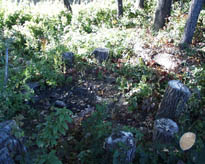 Fire Ring - Oct. 2, 1999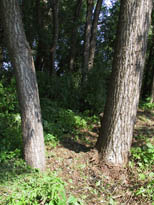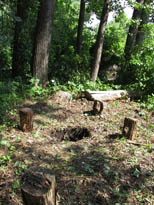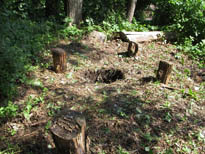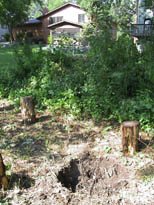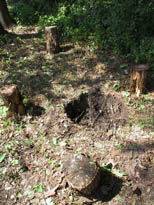 Fire Ring - August 22, 2001 Campfire: August 22, 2001
Interior
Foyer (Main Entry)
This is what sold me on the house. When I walked into this space, I knew it was to be "home."
This room is two stories tall on one side and slopes downward.
I put in the chandelier, which replaced a small, wussy fixture. This space is so big it screamed for something more substantial.
The floor was originally a dark patterned linoleum, as is shown in the first two photos. At some point, I observed that the floor felt soft in a 2-foot-square area in front of the rightmost window. It turned out the sill was badly rotted and permitted water infiltration, which had in turn rotted the underlayment in the floor. I ended up ripping out the linoleum and replacing the underlayment. The house sold before new flooring went in, so the new owners ended up dealing with that.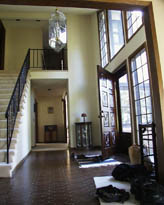 Foyer - Oct. 2, 1999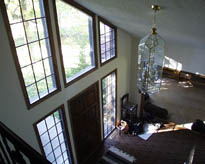 Foyer - From Upstairs - Oct. 2, 1999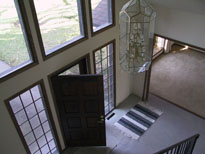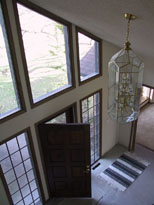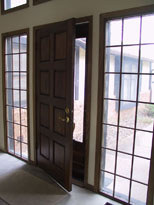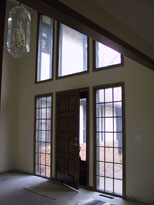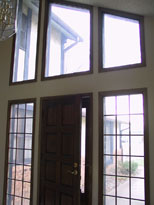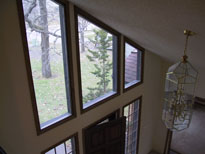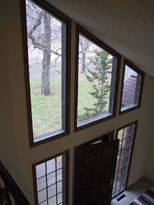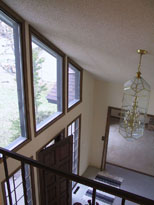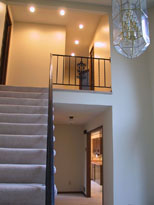 View showing new recessed can lights in upper hallway Living Room
This room was barely ever used except at Christmas, since it had the highest ceilings of any room besides the foyer. It had box bay windows and custom window treatments.
Nothing was ever done to this room.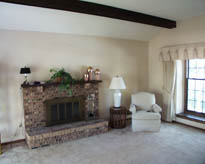 Living Room - Oct. 2, 1999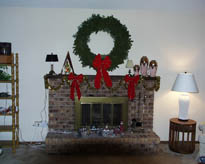 Living Room - Nov. 30, 1999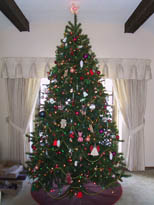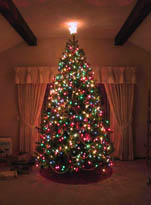 Christmas Tree - Jan. 4 & 8, 2001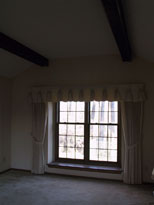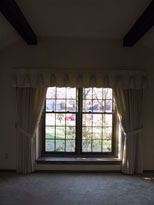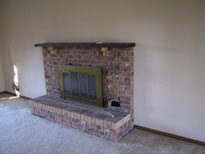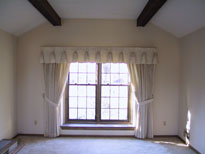 Dining Room
I used this as a home office, and ran cable into the room to feed my first-ever cable modem (Dec. 1998).
This room had nothing else done to it aside from installing a beautiful ceiling fan with a crystal light fixture above the fan blades.
Easily my favorite room in the house, the family room featured one of the three fireplaces in the house made of Chicago brick. It had box beams and a fantastic view out to the deck, pool, and pond beyond that.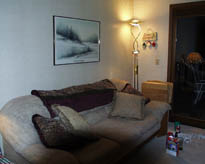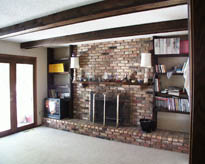 Family Room - Oct. 2, 1999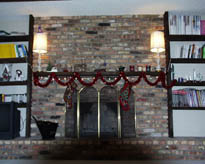 Family Room (at Christmas) - Nov. 30, 1999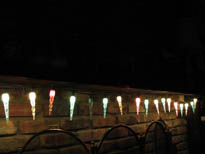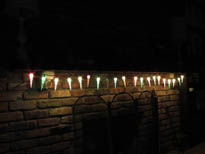 Icicle lights on mantel - Apr. 9, 2001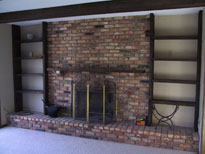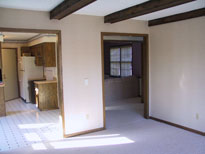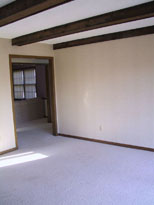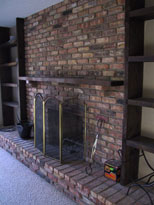 Kitchen/Dinette
New linoleum, new decorative tile behind where the oven/range goes. The original 1978 double oven, in all its hideous Harvest Gold glory (it had been poorly repainted a more tame tan color), went to the trash.
This half-bath had some new pendant light fixtures installed to replace the 1978 chain-and-globe swags.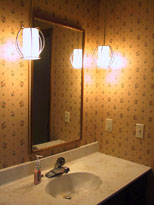 Basement: Landing
Everything you see here had some pretty hideous vertically ribbed '80s wallpaper originally. When I pulled it down, I discovered substantial mold growing in *rings* on the wall opposite the one you see here. After washing the wall with bleach and applying several coats of Kilz, it was no longer an issue, but *wow* what a disgusting job that was.
Whoever finished off this room did a poor job. There was no wood trim on the zigzag part at the bottom of the stairs, a glaring omission which looked so unfinished...half-baked. I resolved that.
The tiny wall to the left of the six-panel door was an unpleasant surprise, too. While painting, I discovered that wall was so water-damaged that I could put my finger through it. The baseboard was in similarly bad condition. Looking at the wall from the back side (in the utility room), the damage appeared quite old, and I never had any other water problems there, so I replaced the drywall and baseboard and called it a day.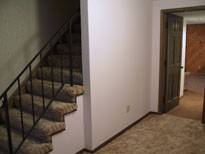 Basement: Bedroom
This was my bedroom - the most spacious, but in the basement. It featured nice built-ins but had a slightly lowered ceiling height due to the sunken living room directly above it.
All walls were repainted and the closet got a two-level organizer.
The center of entertainment was the basement rec room, where a pool table, fireplace and home theater were located. I added some track lighting, installed a closet organizer, repaired damaged ceiling texture and pulled down yet more wallpaper, but beyond that this room was left as it was found.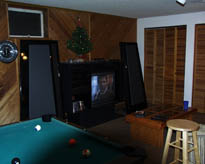 Basement Rec Room/Home Theater - Dec. 3, 1999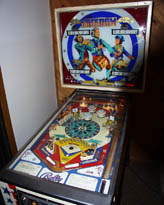 1976 Bally/Midway "Freedom" pinball machine in the rec room - Dec. 3, 1999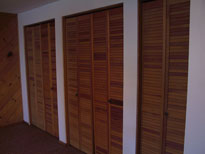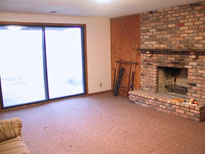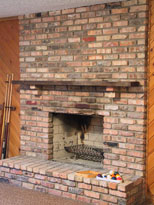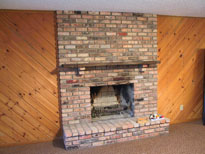 Basement: Bathroom
Since I used the spacious basement bedroom as my own, it made sense to use the basement bath as my own, too. While still carrying most of its late-'70s/early-'80s decor, I stripped it of most of its hideous wallpaper, painted it, and with some new towel bars in place it didn't look all that bad.
For about a month.
Then, mold started to appear on the baseboards. The metal corner bead on the drywall edges began to rust through the paint. Mold started to "bleed through" the walls near the floor. Water would come out from underneath the shower enclosure. Also, for some reason this bathroom was substantially colder than the rest of the basement despite being next to the furnace, so much so that in winter the water that leaked would actually freeze on the floor, turning the linoleum into a skating rink.
I did some reconnaissance, even cutting an access hole through the drywall in the adjacent rec room so as to see behind the shower enclosure. Here's what I saw.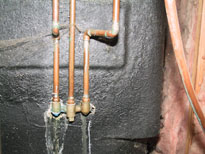 The shower's faucet handles were leaking down the back side.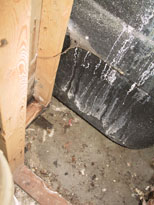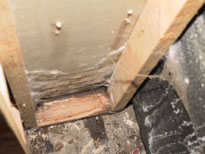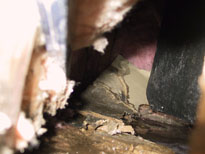 The water was wicking upward into the drywall. Worse yet, this had been going on for a long, long time. The drywall you see in these photos *isn't* the drywall facing outward into the bathroom -- it had been studded over and new drywall applied on that, deliberately hiding (rather than fixing) the real problem and never removing all the damaged materials.
Ultimately, I ended up ripping out everything right down to the studs. It was still that way when I sold the house.
Demolition revealed the source of two nagging issues. First, the bathroom was so darned cold because there was a 3" hole in the edge of the basement slab. It ran all the way to the outside, exiting under the lip of the siding. Second, that hole was the entry point for mice, who then ran into the utility room and got into the ductwork via the furnace. I had heard the sound of little mouse feet for years.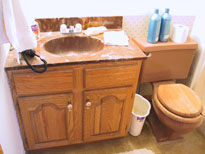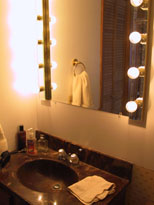 Vanity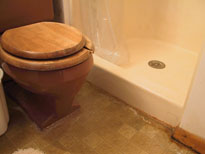 Easy to see the water seepage from under shower and damage to linoleum and baseboard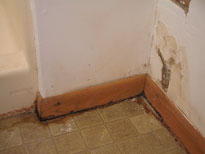 More mold damage on baseboard and drywall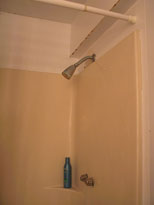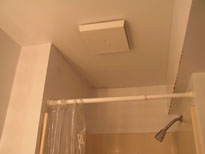 Rust spots seeping through paint from metal corner bead in high-humidity environment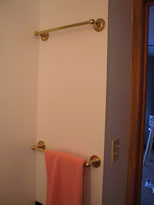 Towel bars
Upstairs: Master Bedroom
The master bedroom was my brother's room while he rented from me in 1998 and 1999. Once he moved out, I began fixing up this room in earnest.
Wallpaper - removed. Oak woodwork, which had been painted with peach latex paint - stripped and re-stained. Walls - repainted, though the two-tone didn't work out as I had hoped. Carpet - replaced. The walk-in closet received a really nice closet organizer.
Time for the second tale of bathroom horror.
The master bath had water damage, just not on the scale of the other two. The shower was regrouted, as was the floor (the loose tiles were put back as well). Everything was repainted, and the light fixture was replaced with a contemporary 3-light halogen fixture, each on an adjustable pulley.
Wallpaper - removed. Carpet - replaced. All walls painted.
What does a twentysomething with a 4-bedroom, 4-bath house that's way too big for him do to help pay the mortgage? Get some friends to live there and pay rent, of course.
I had a coworker renting a bedroom. This bathroom was his de facto private bath...briefly.
Just a few days after moving in, while taking a shower, water began to pour from the family room ceiling directly below this bathroom. While the bath was hideous '70s green porcelain tile, it looked fine in every way.
But it wasn't.
The grout, which appeared OK, had apparently failed in a gigantic way. Water was able to pass through it in such volume that it penetrated the drywall behind it (yes, drywall -- not even greenboard) and then ran straight down the forced air wall cavity behind the tile.
When I initially did reconnaissance to determine the source of the problem, I pushed and pressed on the tile and something just didn't seem quite right. It was, well, *squishy*. Working on a hunch, I grabbed the porcelain soap dish with both hands and pulled. Much of the wall fell toward me -- tile, mastic and delaminated drywall. Yes, most of the wall was badly rotted.
And that was the end of my coworker's private bath.
I ended up gutting this entire bathroom, aside from a couple of walls. I was able to knock a nice new cabinet and lit glass shelves into a void revealed during demolition. I also yanked a 12" soffit that existed above the shower.
Everything you see here is new, including the recessed can lights.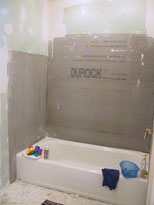 New tub and cement board (for tile surround) & new faucet set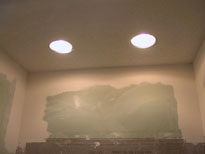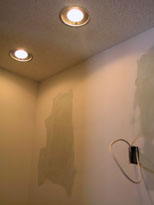 New recessed can lights over tub (L) and vanity (R)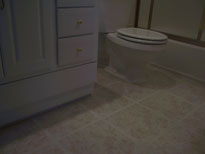 New vanity, toilet, tile, tub, shower doors

You can get a feel for the bathroom's original shade of green here - look along the floor edge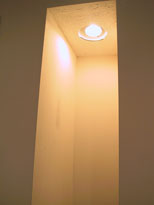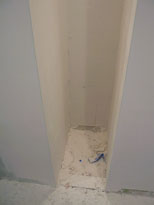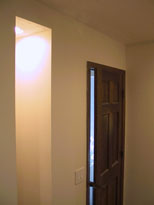 New cabinet space knocked into wall void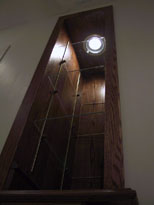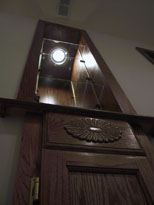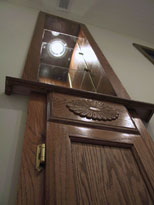 Finished linen cabinet/glass shelves