All web site content ©1995-2020 Brian Reichow.
Original photography may not be reproduced without my prior consent.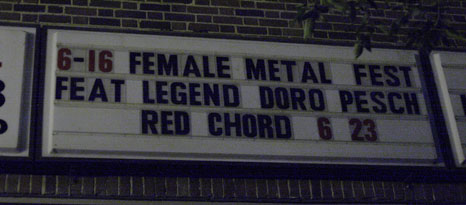 Doro Pesch (Warrior Soul Tour)
DATE: June 16, 2007
VENUE: Station 4 -- St. Paul, MN
---
PHOTOS:
These photos primarily feature Doro Pesch but there are several of her touring band (lead guitar Chris Caffery, rhythm guitar Luca Princiotta, bass Nick Douglas). I did not manage any photos of touring drummer Johnny Dee (of Britny Fox fame). Sorry about the lack of variety in camera angles - the lighting and sight lines SUCKED!
Feel free to use the photos for personal, noncommercial use (e.g. desktop pictures). All other photo use requests must be submitted to me, the copyright holder. That's the deal, okay?
These photos were shot handheld on a Canon EOS 20D digital SLR camera, mostly without flash, using a Canon 70-200L 2.8 IS (image-stabilized) telephoto zoom lens. I've provided two or three different sizes of each image. Specific shooting data is included for each photo. Note that two focal lengths are listed; the first is what is reported by the camera, the second is the effective focal length once you figure in the 20D's 1.6x crop factor. Post-processing (white balancing, color correction, sharpening) was done in Canon Digital Photo Professional.
All photography is copyright © 2007 Brian Reichow, brian@casabrian.com.