All web site content ©1995-2020 Brian Reichow.
Original photography may not be reproduced without my prior consent.
Savatage

DATE: September 20, 2001

VENUE: Highland Theater
Akron, OH
---
THE SHOW:
A crowd of perhaps 200-300. The crowd was a typical mix with all ages, from 16 to 50. The sound mix was outstanding and the larger venue suited the band's live light show.
PHOTOS:
Depending on how the photos turned out, there are multiple sizes (from 640x480 up to 1024x768) of each image. Feel free to use the photos below for any noncommercial use (i.e. anything that doesn't make you money), but please be courteous and include a photo credit (Copyright 2001 Brian Reichow, brian@casabrian.com) and link to this site (http://www.casabrian.com). If you don't, I will hunt you down and kill you like the dog you are. On request, I have the full uncompressed versions of these images -- 2048x1536 TIFF images or Canon RAW -- which are suitable for output at sizes up to 8x10. These photos were shot HANDHELD (!) on a Canon PowerShot G1 digital camera, generally with the shutter speed locked at 1/30 sec. Only a handful were actually shot with flash (an E-TTL capable Canon Speedlite 420EX).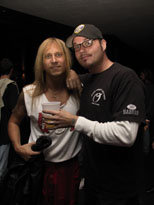 Chris Caffery with Tim "Ripper" Owens of Judas Priest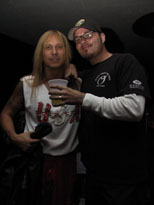 Chris Caffery with Tim "Ripper" Owens of Judas Priest